Healthcare Hero: Dr. Susan Lynch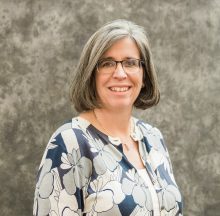 The UNC Charlotte School of Nursing is celebrating our healthcare heroes. Dr. Susan Lynch was nominated by Dr. Dena Evans, director of the School of the Nursing. Evans shared her thoughts on this hero's contributions.
Dr. Lynch has been instrumental to the School of Nursing, its faculty, and students during this unprecedented pandemic. In 2017, when Dr. Lynch accepted the role of Associate Director for Undergraduate Programs, I knew how fortunate we were to have her as a leadership team member. Her knowledge, work ethic, and passion for helping lead significant change in the School of Nursing have been the cornerstone to many of our successes.
An example of Dr. Lynch's commitment to our students and the School may be found in her monumental efforts to coordinate the School's involvement in the Atrium Health mini mass vaccination clinic on campus. I received notice of this opportunity on a Thursday, and the clinic required nursing students and faculty to be prepared to administer vaccinations by the following Tuesday. True to form, Dr. Lynch collaborated with faculty, the UNC Charlotte Student Health Center, and students, to change classroom and clinical assignments to ensure that the School was equipped to assist in distributing 1,200 vaccinations. I am very proud to say that the first event was a success and that Dr. Lynch helped coordinate a second vaccination clinic the following week.
Thanks in great part to Dr. Lynch, students have been able to actively participate in efforts to reduce the spread of COVID-19 both on campus and within the community. Dr. Lynch is a clear example of how nurses working behind the scenes can contribute to clients' health and safety without being officially considered "frontline workers."