Niner Nurses Step Up as Volunteers at Campus Vaccination Clinics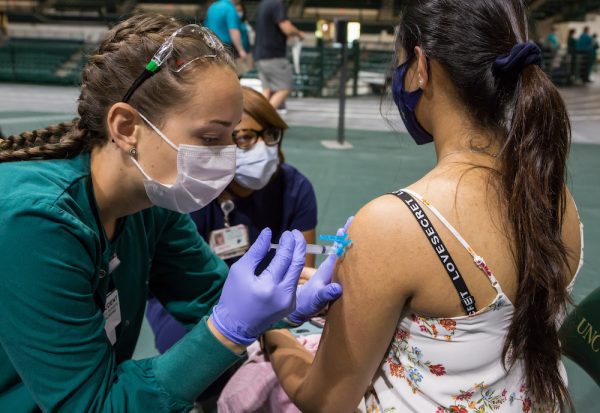 As COVID-19 vaccination sites were set up across fields, in stadiums, and on plazas across the country, UNC Charlotte helped protect its students, faculty, and staff through a series of on-campus clinics.
The University partnered with Atrium Health, the UNC System and the North Carolina Department of Health and Human Services to vaccinate thousands through clinics held at Halton Arena. The UNC Charlotte School of Nursing was a driving force in their success. Faculty and students embodied the 49er spirit of giving back by volunteering to provide staff support and administer vaccines. With less than a week's notice, 10 faculty and 45 students participated at each of the first two events.
"This pandemic has been hard for everyone, but it's really inspiring to see students like me on the front line responding," said student Dalton Pearman. "I was extremely grateful they were able to volunteer to help the community and support their peers."
Student volunteers also felt the gravity of the moment.
"I will never forget the moment after I had administered my first COVID-19 vaccination. I felt so honored and excited to be given such a monumental task," said senior nursing student Logan Watson.
"As health care providers, students and faculty felt a professional and personal responsibility to contribute in a positive way in order to serve the needs of our community," said Susan Lynch, a nursing professor who helped organize the clinics.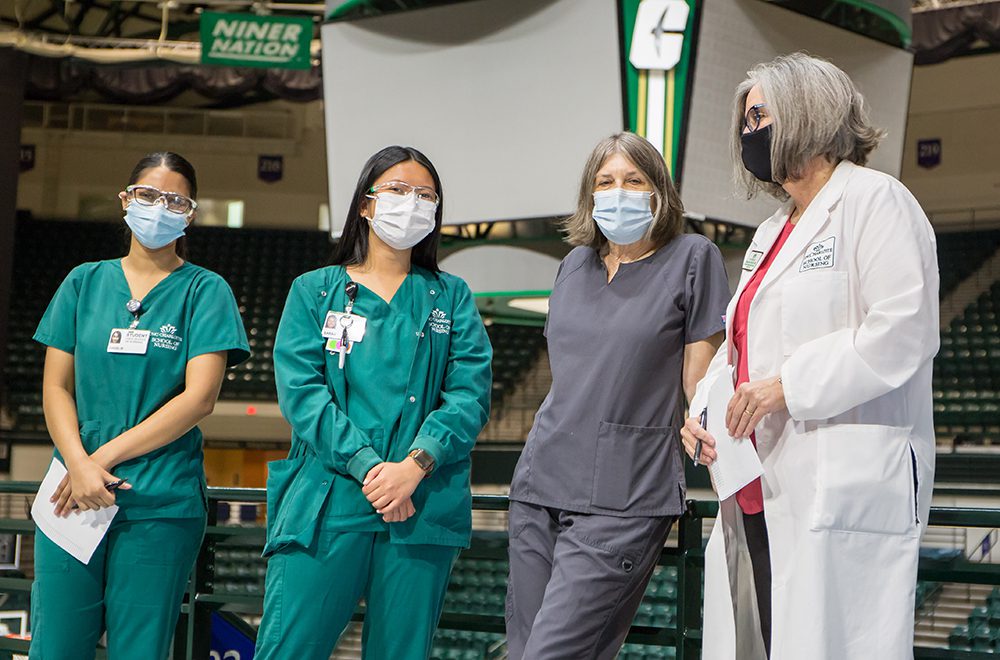 Watson said a career in nursing has been a goal since she was a young child.
"I thrive on the ability to help others overcome obstacles in their life. Nursing is a profession where there are a plethora of opportunities, all which help and benefit the health of others. I am intrigued by not only the skills that nurses provide, but also by the science behind nursing itself. Being able to connect with individuals and families overall brings me so much joy. The COVID-19 pandemic showed the character of not only nurses but all health care professionals. The world needed us, so we stepped up."
For senior nursing student Rion Johnson, volunteering was an opportunity to serve his peers and apply skills he's practiced in the classroom.
"My class work and clinical experiences served me well during the vaccine clinic. Implementing best practice when administering the vaccine, using therapeutic communication in each conversation, especially with those who were more nervous than others to receive the vaccine. Working as a team made this experience very enjoyable for me as a nursing student," he said.
Efforts like these clinics have led nursing to be voted as the most trusted profession nationally for 19 years in a row.
"The pandemic is just one more example validating nurses' contribution and dedication to the health of our community by serving the public in order to care for our citizens," Lynch said.
---
by: Wills Citty