Caring for our Niner Community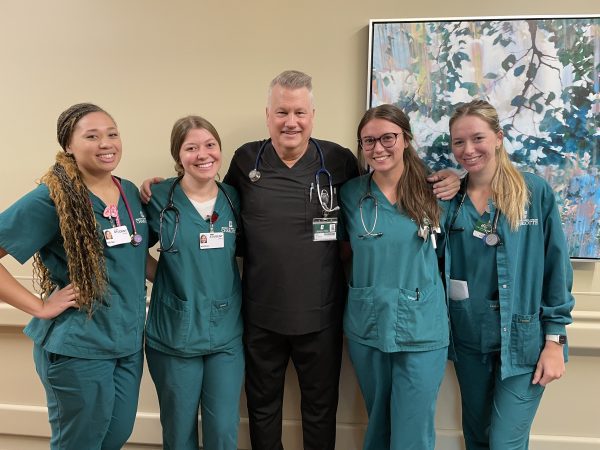 Our UNC Charlotte nursing students are amazing! Recently, our students were able to provide care to the husband one of our fellow Niners. He was a patient on the cardiac floor at Atrium Health Cabarrus.
It was a nerve wracking week for his family, but they were comforted by the care he received from the doctors and nurses, especially the nurses in green scrubs; our UNC Charlotte Nursing students.
Our student nurses, under the leadership and supervision of Michael Armiger, program coordinator of the RN to BSN program and lecturer in the School of Nursing, took such great care of the patient and his family, exhibiting professionalism, knowledge, and care.
Here is a look at our senior students and faculty member during their clinical rotation on the PCCU floor at Atrium Health Cabarrus.
Sadan Shuli , Class of 2024 comes from a family of UNC Charlotte graduates, both her dad and brother are proud 49er alumni. She chose to pursue nursing because she saw how compassionate nurses were to her mom and how they built a bond and connection with patients and she wanted to do the same for others.
Kaitlyn Lisenby, Class of 2024 has always been nurturing. She knew she wanted to become a nurse so she could help people through potentially their worst day. UNC Charlotte was the only university that felt like home to her.
Kayla Moore, Class of 2024 chose UNC Charlotte because it is one of the best nursing programs in the state. It also helps that her aunt graduated from the nursing program at UNC Charlotte, loved it and is an incredible nurse.
Abby Carpenter, Class of 2024 wanted to become a nurse because of her love for people. She chose UNC Charlotte because of the school's growing reputation, as well as its extensive access to clinical sites and learning resources outside of the classroom.
Michael Armiger MBA, MSN, RN joined the faculty in the School of Nursing January 2023. For him, the joy of "teaching" is being there when the rhetorical light bulb illuminates in a student's eyes at the moment they "get it."
Editor's note: Today's "Caring for Our Niner Community" was edited from featured article entitled "Wear Green Wednesday" and was written by Jennifer Howe, director of campus and community communications in the Office of University Communications. Do you have a story to share? Email us at ninerinsider.charlotte.edu.