Professor Starts Online Test Prep Center for International Nurses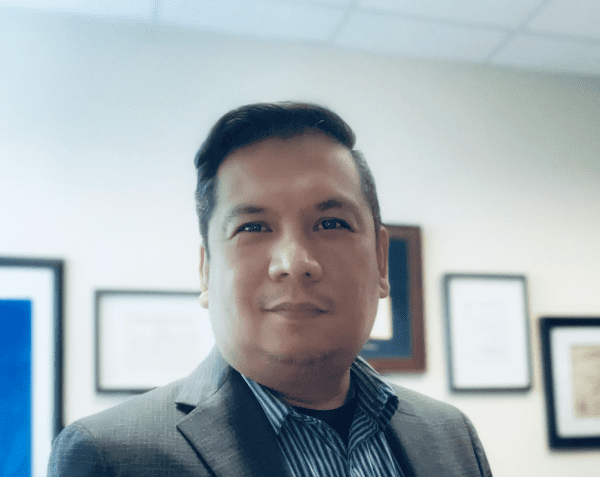 The Journey of an International Nurse
Jhordin James C. Montegrico was born in Ballesteros, a small town in northern Luzon, the Philippines' largest and most populous island. It is a region of rugged mountains, lush rainforests, and beautiful coastlines.
He earned his bachelor's degree in nursing from the University of Santo Tomas in Manila. He then earned his master's degree in nursing from Saint Paul University Philippines in Tuguegarao. In 2002, he migrated to the U.S. to join relatives working abroad.
Like that of all internationally-educated nurses (IENs) today, the journey for Montegrico to go from being a Philippine-licensed nurse to a U.S.-licensed nurse followed a long, complex, and difficult road.
First, he had to pass the Philippine Nurse Licensure Exam. Then, he had to pass a Commission of Graduates of Foreign Nursing Schools (CGFNS) exam, which is required by most states' Board of Nursing.
Once they reviewed his credentials, he had to pass the standard nursing exam called the National Council Licensure Examination-Registered Nurses (NCLEX-RN), which is notoriously difficult.
"More than half of international nurses fail the NCLEX-RN the first time," he explained. "Only 47 percent pass. And then when they retake it, there's an even lesser chance to pass it."
Finally, before he could apply for a visa, he had to pass a series of English proficiency exams. Once he successfully passed all three, he was granted a visa.
In addition, it is an expensive process. To complete all of the exams costs several thousand dollars.
"If IENs undergo this process, they have to save a lot, borrow money, take out loans, or sell their properties just to be able to afford the exams. Finally, they have to find employment, which depends on the current market and who is hiring, which is another challenge altogether," he said.
Breaking Down Barriers
His experience inspired him to create a Facebook-based platform called Nursing Review, and it now has over 55,000 members from Afghanistan to Zimbabwe, and it is growing daily.
It provides free learning of nursing concepts to IENs seeking licensure in the U.S., Canada, Australia, or the Middle East, as well as to nursing graduates in the Philippines taking their local licensure exams.
It uses a variety of formats, including test questions, webinars, Q&A, test-taking strategies, and bullet points to fill in knowledge gaps for IENs preparing for the exams. The daily questions, photos, tips, and infographics include core concepts found on licensure exams.
He also uses the community's feedback and questions to revise, diversify, and expand his delivery methods.
"It has branched out to a lot of different activities as IENs voiced their needs," he said. "For example, what the application process is like, including all the different steps and interfaces; what nursing education is like in the U.S.; how you can finance your college education if you want to earn a master's or Ph.D.; or, for those with families, how you can send your kids to school in the U.S."
"It has grown into so much more than anyone expected," he added. "It has become a huge online community and a valuable resource for thousands of students that includes information, practical tips, and emotional and moral support."
The Power of a Virtual Platform
There are now testing centers all over the world, and IENs can take the licensure exam in their home country before relocating.
"This opens up access for many, whether they are going to the U.S., Australia, or the Middle East," Montegrico explained. "It makes the virtual platform especially powerful."
Farrah Jacinto, an IEN from the Philippines, passed the NCLEX-RN last December and is in the process of acquiring her licensure in Ontario.
"During my preparation, I used Dr. Montegrico's Nursing Review as my main resource," she said. "All the main concepts were embedded in the questions posted on the page. Simple questions but very easy to understand and memorize. The review page was invaluable in conquering the exam."
Randolph Cornelio Capon is another IEN from the Philippines who has been lecturing and practicing nursing and public health for the past 10 years. For him, obtaining his licensure in the state of New York was one of the biggest challenges he's faced.
"I was only earning a meager monthly salary, so it was a challenge for me to pay the expenses to process my papers until I actually took the exam," he said.
He cites the influence of virtual platforms as paramount to the success of IENs. "Online groups have a huge impact on the success of nurses by informing them what to expect, how to prepare, and successfully migrating abroad."
"The overwhelming support of colleagues in the Nursing Review group makes the job easy, bearable, and pleasant," he added. "It is not only impactful in the professional sphere but also for the future academic endeavors of nurses."
The virtual space has allowed Montegrico not only to help IENs across the world pass the exams but has also fostered a growing online community in which members support each other in every step of the process.
A Source of Ongoing Inspiration
Until the early 1970s, there were no licensure exams for international nurses. Their international degrees were seen as comparable.
"In recent decades, it has become more and more a patient safety issue," Montegrico said. "IENs are often educated differently. They may be trained using different technologies or use different medications, so there are a lot of practice differences."
The changing landscape of nursing licensure and Montegrico's decades-long journey have inspired his career's work. As he was earning his Ph.D. in the U.S., he conducted research on international nurses, nursing workforce, and nursing education, and his dissertation investigated the processes for international nurses working abroad.
"I wanted to understand what their unique experiences and challenges were and what their journeys were as they migrate and then take the exam," he said.
In 2008, he opened his first test prep school for IENs. After having closed it in 2016, he wanted to find a way to continue to promote the welfare and success of IENs. "With my background, being the educator and researcher that I am, I wanted to continue providing that service," he said.
In 2017, he reopened it experimentally on Facebook. He immediately began to attract attention. "When I saw that there were more and more responses coming in, I decided to create an official group and platform," he said.
The Road Ahead
About 8 to 15 percent of U.S. nurses are internationally educated. "IENs have always been a huge part of the healthcare workforce," said Dena Evans, director of the School of Nursing, who has written widely on the nursing workforce in the U.S.
According to Evans, IENs may be important in supplementing the nursing workforce during the current shortage. The College of Health and Human Services has already been in talks with Conexus, which is the fourth largest international nurse recruiting agency and represents 18 different countries.
In general, Montegrico's efforts are part of a broader pathway to internationalization.
"At CHHS, we are pushing for internationalization," he explained. "This platform would be an ideal path forward because it cuts across all those different barriers. It would be great to institutionalize our platform, but right now we're trying to determine the best path forward."
Montegrico's platform has evolved into something he did not expect. "It really demonstrates that there is a need and demand for this, and that this platform provides tremendous value and opportunities to IENs," he said. "I haven't dismissed the idea that in the future I can launch an official online platform."